Incredible news: people power has stopped the $1billion loan to Adani!Queensland Premier Annastacia Palaszczuk has just formally vetoed the loan, meaning the Turnbull government can't go ahead with it - a huge blow to mining giant Adani and its plans for the Carmichael coal megamine.
On top of that, just last week we had more amazing news to end the year: after more than a year of community pressure,
 

the Sunshine Coast Council unanimously voted not to rock wall the Maroochy River!
These are huge wins for people power and show what our community can achieve together.
In 2017, we've rallied, signed petitions, donated, contacted Councillors and MPs, talked to media, and made vital progress.
Here's just a few things we've achieved this year:
Saved the Maroochy River

 

from a disastrous rock wall.
Secured a plastic bag bag and container deposit scheme

 

for Queensland.
Continued to stop Adani:

 

Queensland Premier Annastacia Palaszczuk vetoed a $1bn taxpayer-funded loan to Adani.
Rocked the

 

biggest and most successful World Environment Day Festivalyet, landing a State Award for Best Charity Event or Cause Related Event of the Year.
We've got a big year ahead and critical campaigns to tackle.
 

In 2018, together we'll be:
Holding developers to account:

 

2018 could be the year Sekisui is given the green light to override the town plan and build a mega-development at Yaroomba. It's crunch time to speak up and show that our community doesn't want this disastrous development.
Protecting our forests:

 

land-clearing is out of control in Queensland with the state now one of the top 10 deforestation hotspots on the planet. We put in on the agenda this state election, now it's time to secure stronger laws.
Stopping Adani:

 

2018 could make or break Adani and its plans for the Carmichael megamine. We need to keep the pressure up.
 
When we stand up together we win. Let's do it again in 2018.
Thank you so much for your support to protect the beautiful Sunshine Coast in 2017. A 
special thanks to our wonderful volunteers who are the lifeblood of SCEC.

 
We couldn't do it without you.
Have a wonderful festive season and thanks for everything that you do,
Narelle and Jacki, on behalf of us all at SCEC.
Catch the last updates for the year below:
SCEC Campaigns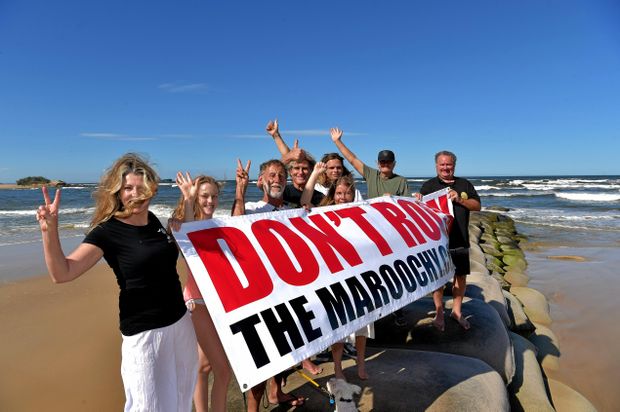 Win for the Maroochy River
After more than a year of community action to protect the beautiful Maroochy River from a devastating rock wall, the Sunshine Coast Council unanimously voted not to rock the Maroochy! Council has agreed to stick with sandbags, which already work to hold off erosion while maintaining the natural beauty and access to the river.
This is a huge win for people power and a testament to the determination and strength of our Sunny Coast community.
Congratulations to Don't Rock The Maroochy, SCEC life member Jim Cash and the thousands of you who took action to save the Maroochy. This wouldn't have happened without you.
A Tale of Two Planning Schemes
There seems to be two planning schemes operating creating two very different character and lifestyle scenarios for our region. One for developers and one for the community. A statutory document created with considerable input from the community and robust planning over 5 years which sets the intent and strategic framework for the region, and one that is considered nothing more than a 'guideline' at best.
Planning legislation allows any manner of development applications to be submitted for assessment. However, the number and nature of applications being submitted to Council which grossly conflict with the 
Sunshine Coast Planning Scheme 2014 and, therefore community expectations, is worryingly growing. 
The list is getting longer, however, three of the most obvious and contentious are...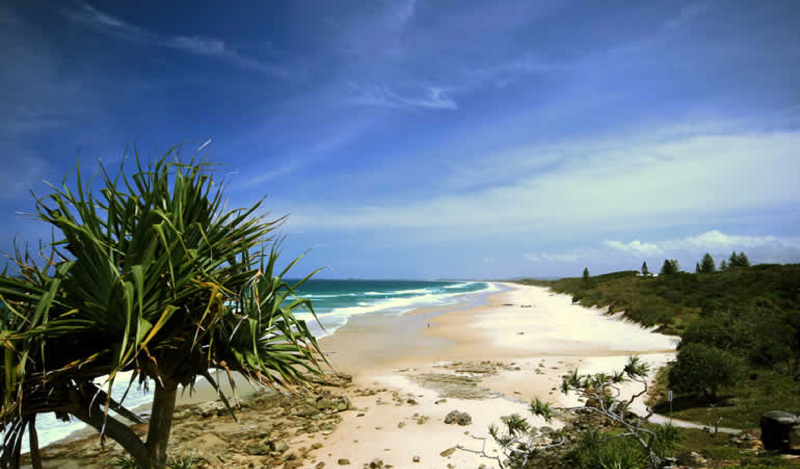 Sekisui
This development application by Sekisui House Australia continues to be aggressively marketed as a tourism proposal. It is far from it. While concept plans offer a 220 room hotel with a conference room, the bulk of the development is high-density residential of over 1000 dwellings for a population of around 2000 people. Planning provisions don't support this type of intensive development in such a sensitive beachfront location. The touted 'benefits' repeated ad nauseum are high-level and exaggerated. With the proposal demonstrably in conflict with the planning scheme, Sekisui is relying heavily on its perceived 'need and community benefits' to justify it being approved.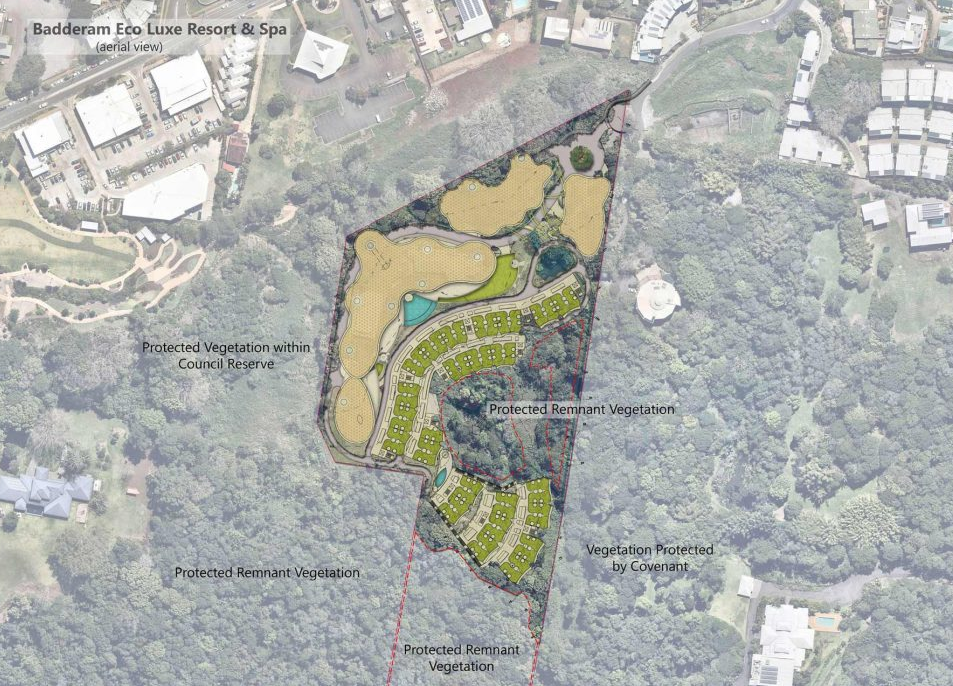 Is 'Badderam' right for Buderim?
'Badderam' - dubbed a 7 star eco-luxe resort and spa - might seem appealing but there is more to the picture than its widespread social media campaign is telling you. Scratch beneath the surface and the full scale and impact on the iconic and picturesque Buderim escarpment is revealed.
For example, 7 transverse cuts across the width of the site is a greater level of benching than one might expect to find in a quarry. A
ll of the cuts exceed 6m in height. Three 
exceed a whopping 8 metres.
You can view the application documents
here.
Planning schemes (both the Maroochy Plan 2000 and now the 2014 Sunshine Coast planning scheme) have specifically sought to protect this iconic landform from further intrusion. Again, this appears to be another development proposed in the wrong place. Slated for refusal by Council due to unacceptable planning issues, a swift and slick marketing campaign devoid of relevant information is aiming to circumvent (and diminish) sound planning grounds. The application is expected to go to a full Council meeting early next year. The statutory notification period has closed, however, you can still express your views to Councillors and Council planning staff.
Twin Waters West
Having been objectionably pushed through a draft major planning scheme amendment, we await (and call for) the release of the findings from an independent review of the flood modelling undertaken by Council and Stockland for this 104ha parcel of the Maroochy River floodplain proposed for inappropriate urban development. Now with the state election over and the Palaszczuk government returned, we may see some updates soon. In the meantime, Stockland has done little to warrant a social licence with this outrageous proposal and questionable process.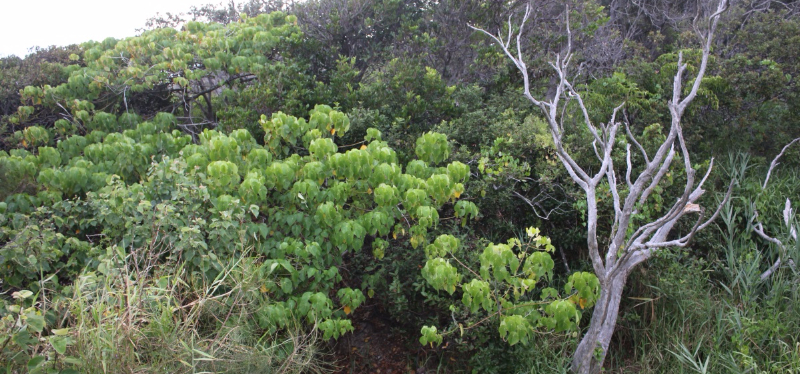 Coastal Pathway
Despite detailed submissions from SCEC and Coolum & North Shore Coast Care during the consultation period earlier in the year to have the proposed pathway for sections between Point Arkwright and Yaroomba (
See Map 12
) revised, Councillors unfortunately disregarded this evidence-based information in the blinkered pursuit of the 'vision' to construct a 'continuous 73km pathway' regardless of the impacts on these sensitive areas.
These particular areas are Coastal Reserves boasting conservation values which rightly affords protection for flora and fauna and coastal processes.
SCEC acknowledges there is merit in providing a pathway for passive recreation and to promote the wonderful natural and scenic amenity of the region. However, not at the expense of coastal ecology and local community values.
 
We have called for further and genuine engagement with Council now that the master plan has been endorsed. There is obviously a considerable amount of work yet to be undertaken, including an increased level of understanding and recognition by Council about why these areas are so ecologically significant and important to the community in its natural state and why alternatives must be considered.
Events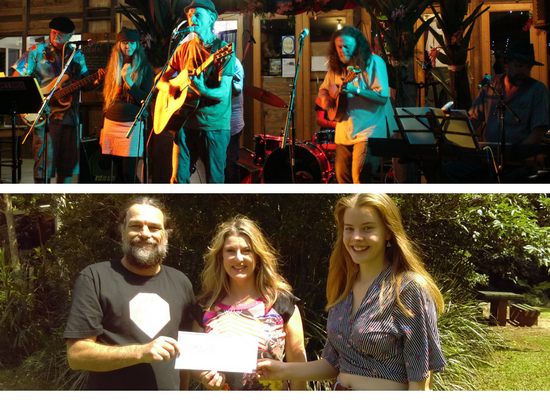 Crystal Waters raises $1000 for SCEC
Piece by Tom Nealson, Crystal Waters.
 
Crystal Waters Community Co-operative was delighted to host "the Environment Party", a fundraiser in support of the vital work of SCEC and the Stop Adani Campaign. SCEC continues to lead the way on local issues including the successful campaign to keep the mouth of the Maroochy River wild and free from rock walls. The Stop Adani Campaign has achieved fabulous awareness in their work to prevent the massive Carmichael coal mine from adding to the planetary burden of climate change and to save the Great Barrier Reef from further bleaching and destruction. Community members and artists generously donated their time and skills for free and we raised $1,300 on the night, with $1,000 going to SCEC and $300 to the Sunshine Coast Stop Adani group. 
 A huge thank you from SCEC to Tom, Sybil, Bre and everyone at Crystal Waters who raised this generous donation!
Other News
Volunteer in the SCEC office!
Do you have administration skills and would like to donate your time to help protect the environment? We're looking for you! Volunteers are the lifeblood of SCEC and we're looking for some extra hands in our Nambour office during business hours, 9-5pm, Tues - Fri. If you'd like to get involved, please email us with a bit of info about your skills, experience and availability. We'd love to hear from you.
Lake Baroon Catchment Care Group wins landcare award
Congratulations to LBCCG who won the Australian Government Excellence in Sustainable Farm Practices Award category at Queensland State Landcare Awards! The award recognises excellence and leadership in implementing integrated land management practices to farm properties that protect soils, water and vegetation.
Myer Foundation Sustainability and Environment Capacity Building Stream grant is open for Expressions of Interest. Find out more here.
Date Claimers
SCEC office closing dates:
The SCEC office will be closed from Monday 25 Dec - Monday 8 January (reopening on Tues 9 Jan 2018).
Sat 16 Dec, 11:30am - 1:30pm – Kenilworth Poetry Trail launch
Family fun day with sausage sizzle, poetry activities and face-painting, sculpture walk, displays and stalls, live country music at Little Yabba Creek Picnic Grounds.
17 December - Batty Boat Cruise.

 
Celebrate the end of another wild year by supporting the bats! Book your cruise now. Info and bookings here.
16 January 2018: Submission period closes for Sekisui's development proposal.
Please
visit Save Yaroomba

 
for details on how to make a submission.
January 20 2018, 9.30am - 3.30pm:
Workshop on native bees.
More info and book online here
Authorised by Narelle McCarthy